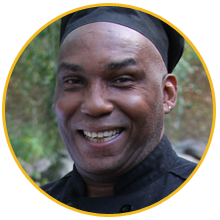 Joe Davis
Chef de Cuisine
Born in the South, Joe came from a large family where everyone was taught to cook at an early age. Joe's mother was a big influence in developing a high passion for food. At every family gathering, there was always food so Joe began to associate food with good times. Some of the best food Joe ever had was served at these family functions and he wanted to be able to prepare this food himself.
Joe's first job was a burger flipping dishwasher. Within two years, Joe became kitchen manager. Looking for more creativity, access to a wider variety of food and a desire to increase culinary knowledge, Joe worked at various types of restaurants. From there Joe decided to enroll in culinary school. This is where Joe's true cooking spirit began to shine. He was elected to Junior President of the Junior American Culinary Federation. This is where joe used food as a catalyst to help those who were less fortunate than himself. After finishing culinary school, Joe worked at the Steamboat Inn in Prescott, Wisconsin. After that he was fortunate enough to open his own catering business in western Wisconsin.
Joe has also spent time involved with his other passions. He has worked with pregnant and teen mothers teaching them the customer service skills needed in running the front and back house of a restaurant business. Joe has also contributed to benefits and fundraising opportunities for Pets are Wonderful Support (PAWS). Joe has also been involved in helping the Boy Scouts and troubled youth. Joe hopes to use food to positively change peoples lives. Joe believes food brings people together in spite of cultural differences.