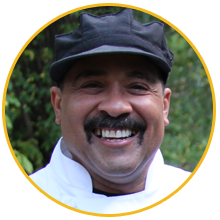 Chef Jeff Riley
Executive Chef & Owner
Chef Jeff learned to cook while growing up in the kitchen with his mother and in the family restaurant. At an early age, Jeff learned to associate food with good times. Every time there was a family gathering, Jeff's mom was in the kitchen preparing the food for the celebration with Jeff at her side. Overtime this developed into the passion that fuels Chef Jeff and his fundamental belief that no gathering is complete unless there is great food to bring everyone closer together.
Jeff began his career working in the family restaurant, Ted Cook's 19th Hole. A take out barbecue joint in south Minneapolis. While still a kid, Jeff learned every aspect of the business from doing the dishes, to waiting on customers to prepping food to doing the actual cooking. After high school, Jeff thought about trying other lines of work, but his feet kept bringing him back to the kitchen. This gravitation led Jeff to enroll in cooking school where he further honed his skills.
After school, Jeff launched his professional career with Byerlys where he started as a line cook. Jeff then started working at three different restaurants simultaneously and finally sided to make his second home Nicollet Island Inn. Jeff was quickly promoted to banquette manager. In this role, Jeff worked with clients and the kitchen staff to plan banquettes and coordinate the food preparation for all events at the hotel. This included weddings, corporate events, and special occasions like Christmas Dinner and Easter Brunch. While Jeff would go on to assume executive Chef responsibilities at other well known Minneapolis restaurants and private clubs including the Rolling Green Country Club, Jeff never would never lose his passion for working with people to plan and create memorable events that bring friends, family and co-workers together with great food. This experience would be one of the main driving forces behind Chef Jeff Catering.
Another force behind Chef Jeff Catering was the helping hands others provided during Jeff's journey. At each step, mentors and friends were always there to teach, develop and encourage so Jeff could progress both professionally and personally, in order to achieve his dreams. In fact, Jeff's mentors and teachers had such a profound impact, that at an early age, Jeff realized the importance of giving back and committed to making teaching and helping others a central part of his life. Over the past 10 years Jeff has demonstrated his commitment by working with area youth, especially at risk youth, to teach leadership and life success skills using his passion for food. Whether teaching kids at youth camp to cook over an open fire, or developing and teaching formal classes at Minneapolis schools, or mentoring upcoming culinary students, Jeff is committed to training, mentoring and developing the next generation of Chef Jeffs… including providing employment opportunities for the most promising students.
Planning an important event? Let Chef Jeff help make it memorable. Working with clients to plan the perfect event and prepare amazing food is not just what Chef Jeff does, it is his passion and the reason he started this business.